Reviews 2017-18
Wed 4th Oct. 2017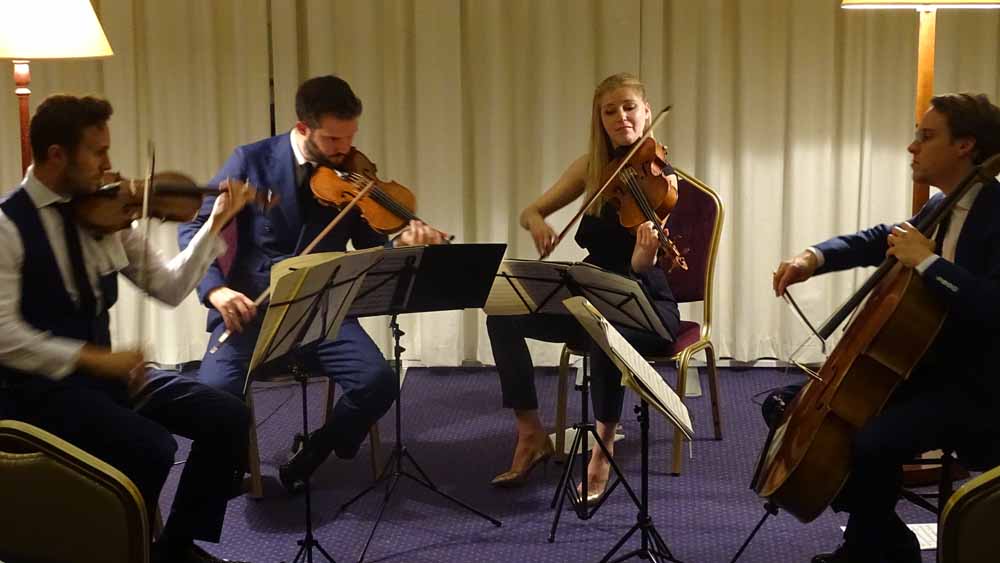 Doric String Quartet
For the first concert of the 2017/18 season on Wednesday 4th October, we welcomed back the Doric String Quartet after their recital in St Peters some seven years ago. The cellist John Myerscough introduced the concert commenting on our new (to them) venue. He explained the reason for performing the Haydn Quartet second, saying Haydn deserved better than "warm up man" status when pieces tend to be played chronologically. Especially since they were playing his Opus 20 No 4, this Opus being regarded as the first of the great String Quartets. The concert had started with Britten's first Quartet, written in America during the Second World War. The extraordinary sound world Britten creates starts with the three upper instruments at the very limits of audibility and at their highest range, with the cello's guitar-like pizzicato isolated far below. The virtuosity required in this work was ably met by the Doric. After the interval they played Mendelssohn's Op 80 Quartet. Mendelssohn's Quartets have suffered undeserved neglect in the past. This Quartet was written after the death of his beloved sister and the sense of profundity and sorrow pervades the work. The slow movement raises the mood, beginning gently but later becoming troubled. This was a wonderful start to our season, with the audience showing its appreciation of the Doric's performance. .

For more information please look at the Programme page here
Wed 8th Nov, 2017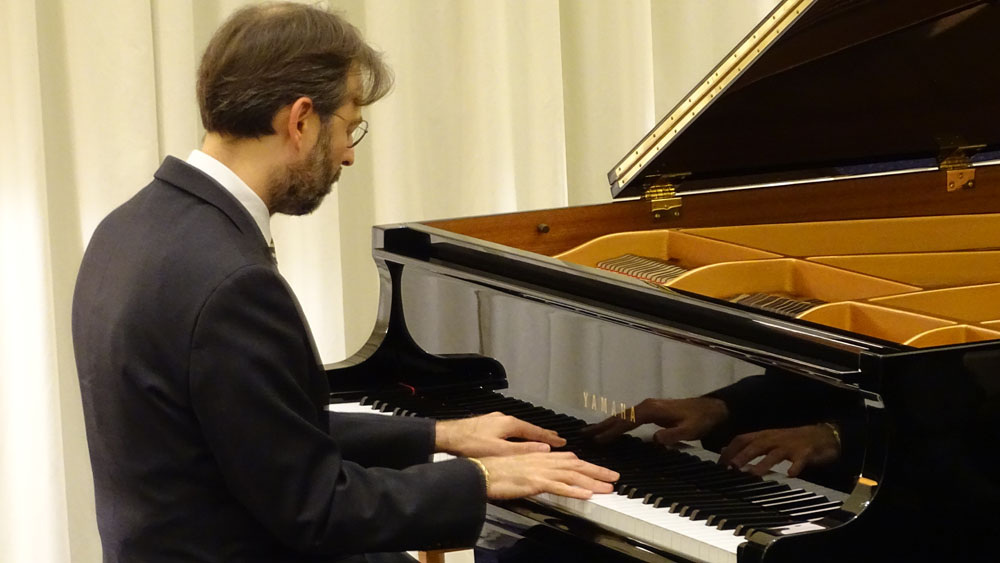 Rossano Sportiello
"S'Wonderful", "How Long Has This been Going On?", " Honeysuckle Rose", "Misty", "Embraceable You" are classics of the "Great American Song Book." Through these and many others, Rossano Sportiello reopened the Book and transformed what had been familiar, to the delight of an enthralled audience.
Beginning with George Gerschwin, Rossano's programme took us back and forth through the works of Richard Rodgers, Count Basie, Fats Waller and Errol Garner, to close with Hoagy Carmichael's "Stardust." Apparently effortlessly, he shifted from classic musical theatre through swing and Harlem stride in a startling variety of styles and moods, consummately rendered. At times his brilliant fingering at lightning pace had his listeners gasping, then he would shift to the most delicately sensitive exploration of a poignant ballad.
A moment in the second half reminded us of Rossano's highly developed expertise in classical piano, when he delivered a Chopin waltz exquisitely played in classical style, then let it flow into a jazz improvisation of one of the composer's best loved nocturnes.
Rossano does not publish his programme in advance, preferring to select his music and range of composers to suit the occasion. His choice this time certainly suited his audience, who demanded an encore which he delivered with verve and blistering pace. He brought additional pleasure to the evening through the warm rapport he created with his listeners as well as the astonishing virtuosity which has made him an international star in the world of jazz improvisation.. We are used to performers praising the Old Kirk's qualities as a venue. On this occasion Rossano went a step further in his closing remarks by publicly commending the qualities of the piano as well as the superb accoustics of the space—along with his appreciation of the audience response. It was a happy reminder of how fortunate we are in Kirkcaldy to have a venue in which international class performers can perform at their best. Earlier in the day Rossano gave a workshop for pupils in two local primary schools, arranged by the Music Society and part-sponsored by Fife Council. His personal warmth and wit delighted the youngsters, especially when he had some of them playing alongside him, as he gave them an experience they will long remember.
For more information please look at the Programme page
here
Wed 6th Dec. 2017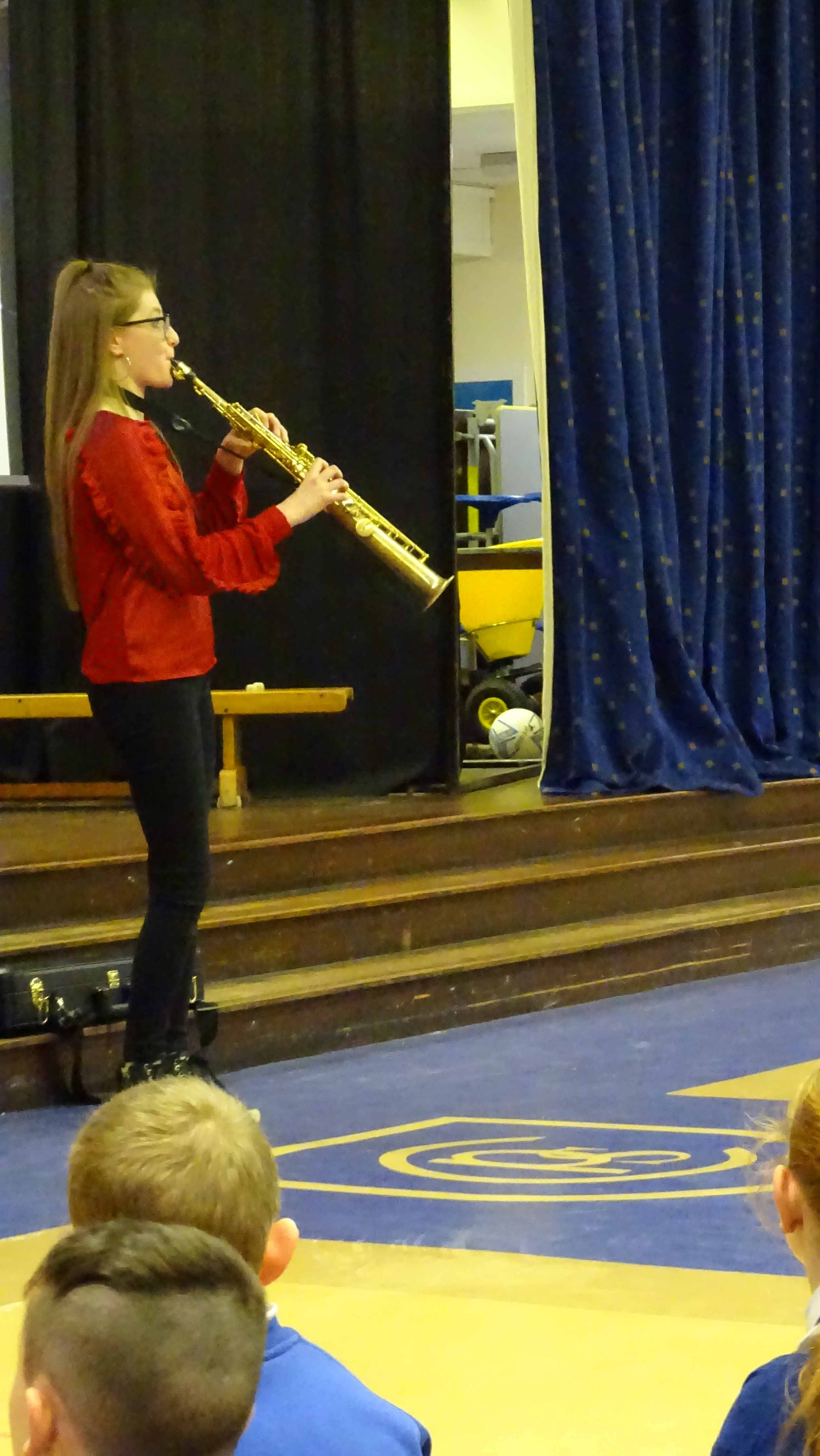 Jess Gillam
On Wednesday 6th December we welcomed young Saxophonist Jess Gillam accompanied by Jonathan Fisher. We had previously hosted the Ferio Saxophone Quartet in March 2016, so a solo performance by this Woodwind Finalist of the BBC Young Musician of the Year in 2016 was eagerly anticipated.
There was an exhilarating start to the programme with Iturralde's Pequena Czarda. There was local interest with Dave Heath's "The Celtic" with one movement entitled "Lament for Collessie" and another based on "The Wee Cooper of Fife". Michael Nyman's "If" from "The Diary of Anne Frank" was played with great tenderness. With Jess playing a Soprano Saxophone the first half continued with Bartok's Three Folk Songs from Csik, Jeremy Wall's Elegy for Thane and a Selection of Children's Songs by Chick Corea. Jess looked stunning in her Gold sparkly jacket and shiny Doc Martens. She moved around the floor a little as she played, certainly not enough to be annoying, with her pony tail swinging behind her. Her playing was of the highest order with beautiful tone in both the high and low registers. Jonathan had a typical accompanists' role in the background, with all eyes on the soloist. But he fulfilled that role admirably especially with a long piano solo in John Williams "Escapades".
The second half had started with Jess playing Debussy's Syrinx on Alto Sax. This piece is usually played offstage and Jess performed it while walking slowly to the front. The Old Kirk layout is ideal for this. We heard Ravel's Piece en Forme de Habenera and a beautiful arrangement of Peter DeRose's Deep Purple. There were fireworks from Milhaud's "Brasileira" from "Scaramouche" and the first movement of Phil Woods' Sonata for Alto Sax. Calm was restored by a tender rendering of Duke Ellington's "In a Sentimental Mood" as an encore. This was an electrifying performance by these young players, much appreciated by the audience of 89.
Earlier in the day they had gone to Capshard Primary School for a workshop for over 200 pupils from Capshard and Torbain Primary Schools. They were enthusiastically received and there were many searching questions from the children, such as "Are you famous?" and "Can you play Jingle Bells?" She is certainly famous in the Saxophone world. I am sure she will be famous to a wider public in the near future. And yes, she can play Jingle Bells, as she demonstrated, much to the delight of the children! Thanks to Kirkcaldy Rotary who sponsored the workshop.

For more information please look at the Programme page here
Wed 17th Jan. 2018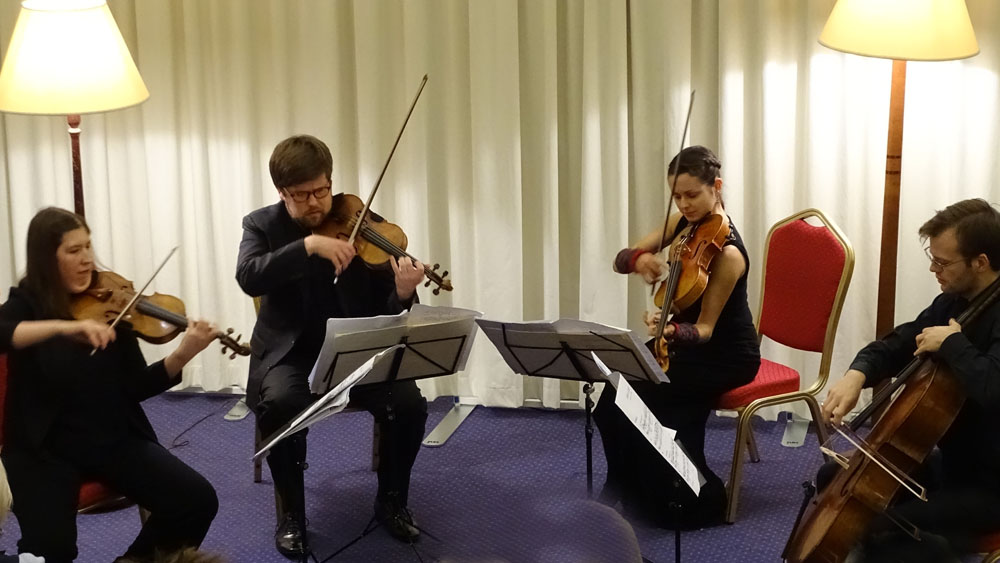 Castalian Quartet
On Wednesday 17th January KMS welcomed the return of the Castalian String Quartet. They had previously played for us in October 2014. Since then they have won top prizes at international competitions in 2015 and 2016, including the Albert and Eugenie Frost Chamber Music Prize from the Royal Philharmonic Society. They expressed delight with the Old Kirk venue and particularly liked the tiered seating which, as the concert progressed seemed to draw the audience into the performance and establish good rapport. The concert started with Haydn's Op 76 No 3 Quartet, "Emperor", introduced by second violin Daniel Roberts. The slow movement is a set of variations on Haydn's own Emperor's Hymn. Each variation features a different instrument playing the theme with the first violin performing rapid embellishment above. This was performed with great skill from the leader and much tender playing from the lower instruments. The leader Sini Simonsen introduced Dutilleux's "Ainsi la Nuit". She told the audience she had been inspired many years ago to play in String Quartets after hearing this piece. She was fascinated by the effects that strings were capable of producing. This was amply demonstrated in this performance with varied pizzicato effects, and many harmonic effects. This was a challenge to the audience but they were on more familiar ground with Beethoven's Op 132 Quartet, with its heartfelt third movement "Sacred Song of Thanksgiving", written after Beethoven's recovery from illness. It is interesting to consider that Beethoven's late Quartets were not understood in their time. Dutilleux's day might yet come! This was a wonderful concert with highly skilled playing, beautifully expressed. We were delighted to get the opportunity to have this group again.

For more information please look at the Programme page here
Wed 21st Feb. 2018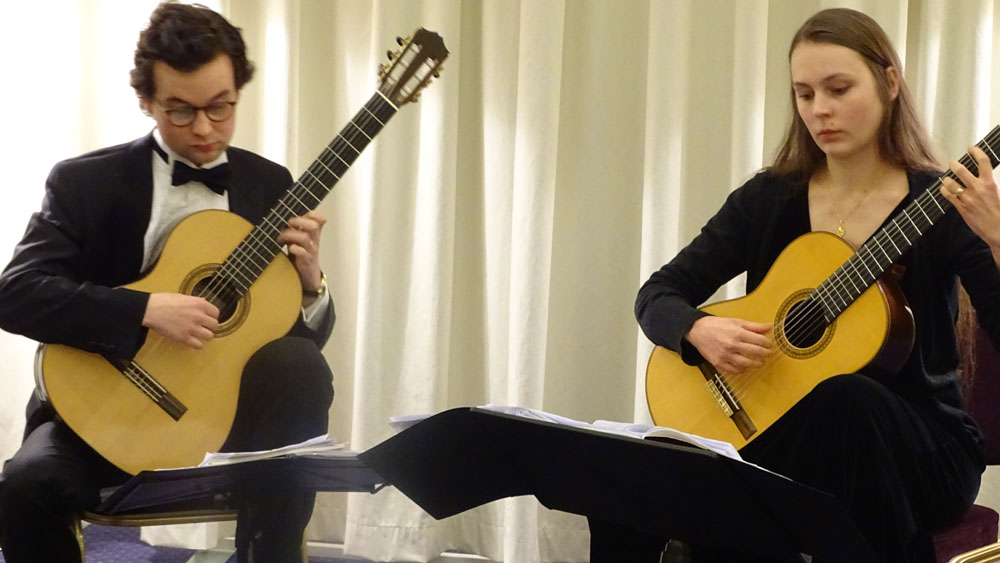 Kristina and Ian Watt
On 21st February Kirkcaldy Music Society welcomed the Duo Primavera. Kristiina and Ian Watt make up the Duo, whose virtuoso guitar performance is enhanced by Kristiina's exquisite singing. The Duo's programme ultimately ranged from the 16th through to the 20th centuries. They began with two of Rameau's "Pieces de Clavessin," in which they had the audience immediately rapt by a delicate rendering of "Les Tendre Plaintes," which was then balanced by the more vibrant tones of "Tambourin." Within minutes their listeners were aware of the faultless technique, intimate mutual understanding and sensitive delivery which characterised the whole recital. A further dimension was immediately added in Kristiina's performance of three songs from the early baroque era, in which her soaring voice and variety of expression brought out the contrasting moods with Ian's accompaniment adding its own colour.
The heart of the recital, bridging the interval, was the series of pieces by Dionisio Aguado and Fernando Sor, two Spanish composers and performers in the late 19th and early 20th centuries who were closely associated and were enormously influential in the development of the classical guitar repertoire. Aguado's "Introduction and Rondo in A minor, Op 2/2," was followed by Sor's "Les Deux Amis, Op 41," and then, to open the second half, a song selection from Sor's "Doce Seguidillas" in which Kristiina played her own accompaniment. The variety of tone, pace and contrasting colours in the selection allowed the Duo, separately and together, to showcase their distinct individual talents as well as their intimate interplay, in a quite mesmeric performance. Four pieces from "12 Spanish Dances," by Enrique Granados brought us into the 20th century, and the evening to a richly satisfying conclusion.
With what had gone before, they gave the audience a vivid demonstration of the Spanish guitar's rich variety of expression and dynamic variation, with the most intricate passages delivered with startling technique and apparently telepathic understanding. The couple's engaging commentary on the pieces throughout the recital added to the pleasure of a memorable evening.

For more information please look at the Programme page here
Wed 21st Mar. 2018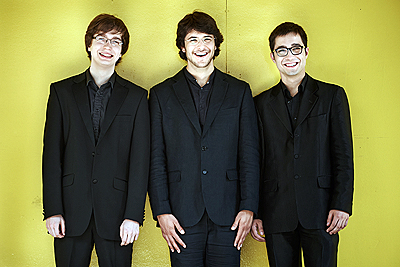 Isimsiz Piano Trio)
The report will follow the concert. . There will also be our AGM and concert on a date to be announced

For more information please look at the Programme page here
AGM On a day in April.2018