Reviews 2011-12
11th May 2011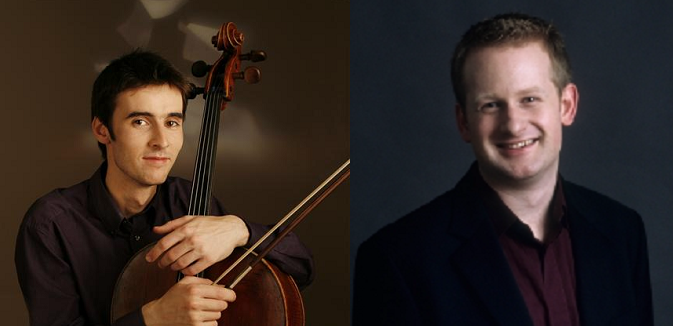 Philip Higham and Simon Lane
On May 11th, the Society was able to hold its cancelled December concert with Philip Higham (Cello) and Simon Lane (Piano).
Philip was born in Edinburgh and studied at St Mary's Music School and at the Royal Northern College of Music. Simon also studied at the Royal Northern College of Music and won the Royal Overseas League Accompanists' prize in 2009.

They gave wonderful performances of three of my favourite Cello and Piano pieces; Debussy's Sonata, Janacek's Pohadka and Brahms Sonata No 2, Op 99.

Less well know to me but still played with great skill and assurance were Britten's Suite No 3 Op 87 for solo cello, and Schumann's Drei Phantasiestucke Op 73 arranged for cello and piano.

Douglas Paton
5th Oct 2011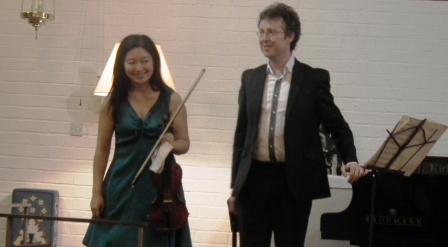 Arisa Fujita and Sam Haywood
On Wednesday 5th October KMS welcomed Arisa Fujita (Violin) and Sam Haywood (Piano).
Arisa has played for KMS twice, with her two sisters as a member of the Fujita Piano Trio. Sam had success at the age of 13 in the BBC Young Musician of the Year. He went on to study in Vienna and at the Royal Academy in London. His Hi - Tech input was to play from an I Pad instead of sheet music. "I think this is the future" he said. "Much better than carrying around a pile of sheet music". Pages are turned by the flick of a foot switch. Sadly this may signal the demise of the Page Turner!
The concert started with Bach's Violin Sonata in E major, BWV 1016. This is the third of six sonatas written between 1712 and 1723. The first half closed with Brahms Violin Sonata in A major, Op 100, the second of his three Violin Sonatas, written during an idyllic holiday in August 1886.

After the interval, the performers continued with Brahms Scherzo in C minor. This was written much earlier than the Sonatas, in 1853. As a birthday present to Joseph Joachim it was decided to write a "Committee Sonata" with Albert Dietrich writing the first movement, Schumann the second and fourth and Brahms this third. Sadly only the Brahms movement survives. There followed a performance of Beethoven's Sonata in C minor Op 30 no 2. This was written in 1802 when Beethoven had survived the biggest crisis of his life in his recognition of his progressive deafness and at the end of an unhappy love affair. The music reflects Beethoven's determination not to let Fate overwhelm him.

The appreciative audience's continued applause brought an encore of an arrangement of one of Debussy's songs.

Douglas Paton
9th Nov 2011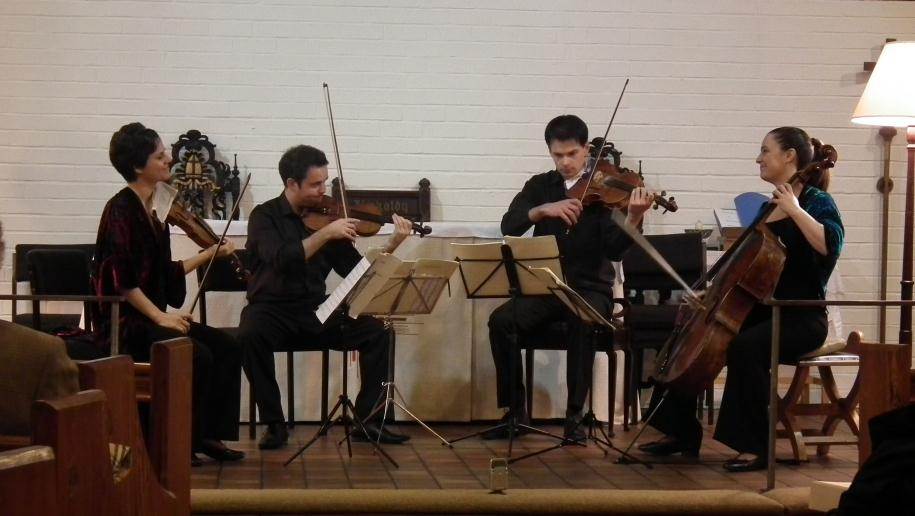 Elias String Quartet
On Wednesday 9th November KMS welcomed the Elias String Quartet, Sara Bitlloch and Donald Grant (Violins), Martin Saving (Viola) and Marie Bitlloch (Cello)

All now living in England this is a truly International Quartet, with the Bitlloch sisters coming from France, Martin Saving from Sweden and Donald Grant from Scotland. The Quartet formed in 1998 at the RNCM and they have been coached by Dr Christopher Rowland, the Alban Berg Quartet and members of Amadeus, Endellion and Vermeer Quartets among others.

The concert started with Haydn's Quartet Op 20 No 2. Although an early Haydn quartet, this sounded very sophisticated, especially the recitatif-based slow movement and the last movement with its four subject fugue. The Scottish Fiddle Music came from a performance of Sally Beamish's String Quartet No 3, "Reed Stanzas". This work was commissioned by the BBC Chamber Proms 2011 for the Elias Quartet. In this piece the dual talent of second violinist Donald Grant as Scottish Fiddle player is featured. The work started with Donald playing a haunting, solo Scottish air from a distance, playing as he walked to the stage, as the rest of the quartet started an accompaniment. This beautiful work is well worth another hearing.

After the interval, the performers continued with Beethoven's Op 130 Quartet. The Elias played this with Beethoven's original Finale which has become known as the "Grosse Fugue", Op133. Beethoven was persuaded that this monumental 15 minute long movement was too complex for early 19th Century audiences and he wrote another Finale for the Op 130.
The Elias Quartet has recently started a project to learn all the 16 Beethoven Quartets over the next few years. This is to fulfil their dream of performing the complete Beethoven Quartets as a cycle. Their progress can be followed on the website www.thebeethovenproject.com

Douglas Paton
7th Dec 2011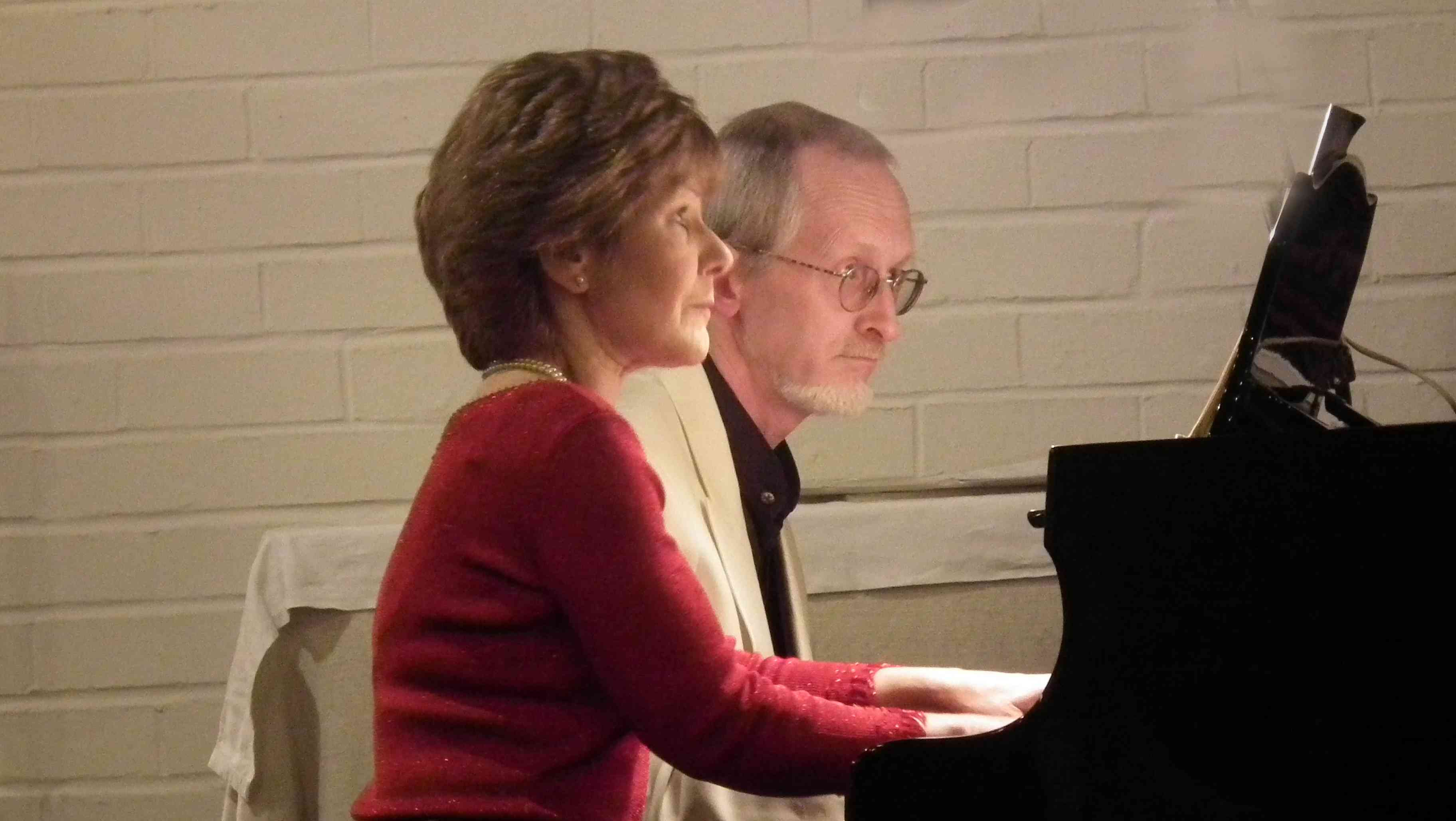 Margaret Wakeford and Simon Coverdale
On Wednesday 7th December, KMS welcomed the husband and wife Piano Duo of Margaret Wakeford and Simon Coverdale. Margaret and Simon both teach music in Edinburgh and are in demand as adjudicators. For over a decade, they have been frequent performers at music clubs around Scotland. They often direct Duet masterclasses and last year were invited to Washington State where they gave recitals and workshops.

For our concert they played Georges Onslow's Sonata Op 22 in four movements. Onslow was born in France in 1784, although of English parentage and was known as the "French Beethoven".
This was followed by the Hungarian composer Istvan Szelenyi's "Colorit" also in four movements. The first half closed with Grieg's Two Waltz-Caprices. Since they were never orchestrated they are less well know than his Norwegian Dances. The second half started with Schubert's Allegro, D947 "Lebenssturme". This begins and ends in the key of A Minor. The concert ended with Samuel Barber's "Souvenirs" This consists of six dance movements and depicts some of the events in the Hotel Plaza in New York round about 1914.

Rapturous applause from the appreciative audience brought an encore of Grieg's Second Norwegian Dance. We left wondering what TV or Radio programme from the past had used that piece as an introduction. The internet later told me it was used on the TV programme "The Adventure Game", but I am sure it had also been used many years before that.

Douglas Paton
18th Jan 2012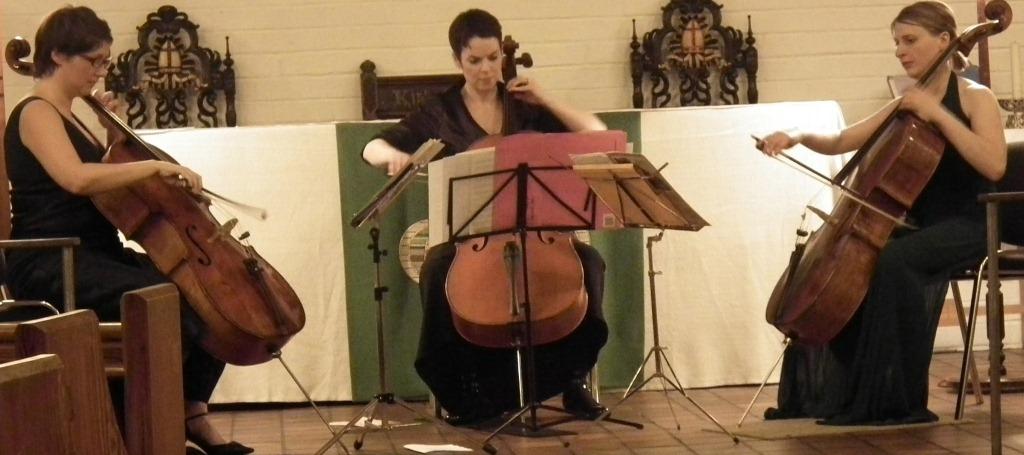 Amici Cello Trio
Three Cellos at Kirkcaldy!
On Wednesday 18th January, Kirkcaldy Music Society welcomed the Amici Cello Trio. There were indeed three Cellos, played by Scottish friends Sonia Cromarty, Fiona Dippie and Helen McVey. They have all studied at the RSAMD and have played throughout Scotland and performed with Jamie McDougal in a live performance on BBC Radio Scotland.

Each item was introduced by different members of the group and these informative introductions made for a very intimate atmosphere. The obvious enthusiasm of the players certainly came across, and the leading roles were shared round the group.
This unusual combination of instruments started with an arrangement of some of Handel's Music for the Royal Fireworks and continued with Kodaly's Suite from Zehn Trios. This was followed by a Trio Beethoven originally wrote for two Oboes and a Cor Anglais. The first half ended with an arrangement of Scottish Tunes including Ae Fond Kiss, and My Love is Like a Red Red Rose.

The second half started with Giacobbe Cervetto's Trio No 6, and continued with the familiar Apres un Reve and Sicilienne by Faure. Richard Klemm's 6Suite for Three Celli and Piazzolla's Tango, Soledad followed. The performance closed with an arrangement of Khachaturian's Sabre Dance.

Douglas Paton
8th Feb 2012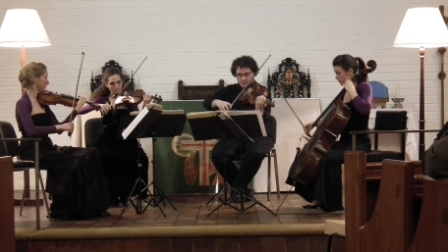 Finzi String Quartet
On Wednesday 8th February, Kirkcaldy Music Society welcomed the Finzi String Quartet. They were formed whilst studying at the Royal Northern College of Music under the guidance of the late Dr Christopher Rowland. They were First Prize winners in the 2010 Royal Overseas League Competition and they took second prize in the 5th Trondheim International String Quartet Competition in Norway. A recent change in personnel makes the current line-up Sarah Wolstenholme and Louise Salmona, Violins, Adam Newman, Viola and Lydia Shelley, Cello. They started with Haydn's String Quartet Op 50, No. 1, the first of his "Prussian" Quartets. They then diverted from the printed programme by playing Bartok's First String Quartet, instead of Debussy's Quartet. This caused some confusion in the audience since the Quartet did not introduce the piece. The concert closed with Mendelssohn's Quartet Op 13 in A minor. The next concert will feature the Badke String Quartet and will take place on Wednesday March 14th.

Douglas Paton
14th Mar 2012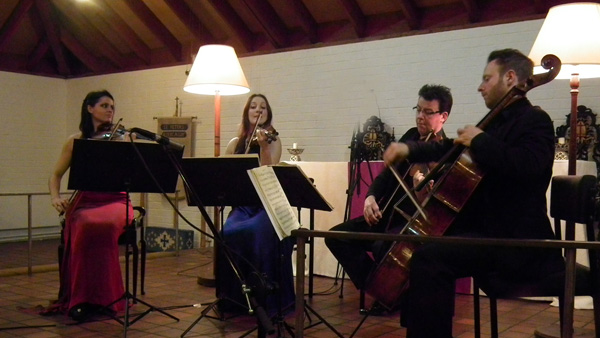 Badke String Quartet
KMS welcomed the Badke String Quartet for its 14th March 2012 concert, playing Britten, Beethoven and Mozart. The Quartet, Lana Trotovsek and Emma Parker, Violins, Jon Thorne, Viola and Jonathan Byers, Cello were winners of the 1st prize and the audience prize at the 5th Melbourne International Chamber Music Competition in 2007. They have studied with Gabor Takacs-Nagy and the Alban Berg Quartet, and they held the Senior Leverhulme Chamber Music Fellowship at the RAM from 2005 to 2009.

The concert started with Mozart's Quartet in F major K590. This was followed by Britten's Quartet No 3 Op 94,which was introduced by Jonathan Byars who explained the background to the piece. After the interval the Quartet concluded the concert with Beethoven's early Quartet in G Op 18 No 2. The rapport in this quartet was evident all through a very demanding programme.

The society concludes the season with the AGM and concert by the Queen Anne Singers with flute and piano on 18th April. Wine and nibbles will be provided. The concert is included in the season ticket and will be £5.00 for non season ticket holders.

Douglas Paton
18th Apr 2012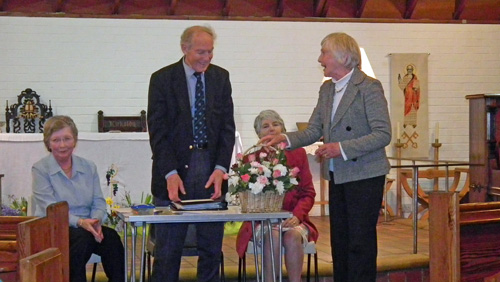 AGM and the Queen Anne Singers
Kirkcaldy Music Society Chairman retires.

On Wednesday 18th Bill Ritchie who has chaired The Kirkcaldy Music Society for 24 years handed over the reins to Mairi Rolland at the Society's Annual General Meeting. The new chairman read music at Edinburgh and is well known as the conductor of the Kinghorn Singers for over 30 years and as an accompanist. Mairi said she was more than a little intimidated by the thought of following in Bill's highly successful shoes and she praised Bill's long and dedicated Chairmanship during which he had guided the Society carefully, quietly and wisely. She then presented Bill, on behalf of the Trustees, with a cheque and their grateful thanks. Flowers were also given to Mrs Ritchie for all her support.

The AGM was followed by a delightful concert given by the Queen Anne Singers under the direction of Nancy Crook with several stunning flute solos by Stuart Miller. They started with Mozart's Laudate Dominium with obligato flute from Stuart. Nancy then accompanied Stuart on the very beautiful St Peter's chamber organ in CPE Bach's Hamburger Sonata. The Choir returned with performances of "Lift Thine Eyes" from Mendelssohn's Elijah and Dvorak's "Song to the Moon" from Rusalka. Stuart returned with Duvernoy's Concertino for Flute and Piano. The choir finished with a medley of Gershwin songs, and the concert closed with Nancy Crook's Introduction and Dance for Flute and Piano. Afterwards the artists and audience mingled over a glass of wine and David Reid announced the winner of the raffle which was for vouchers donated by Shell UK LTD one of the Society's Sponsors.

The new Chairman would like to encourage all music lovers to come along to the KMS recitals. She said;- "We are a very friendly Society and St Peters is a special welcoming place. It is just a perfect size and atmosphere for small scale music. If you like Chamber Music then you should be here and if you know nothing about chamber music then this is the place to come and find out what you are missing! We have 6 concerts per season given by absolutely first class artists from Britain and Europe and there is nothing quite like a live performance by a young vibrant ensemble to make your senses tingle and make you go home elated and thankful to be alive. (It makes a change from reading the news!!) " The new Season starts in October and if you take a season ticket you will get 6 concerts for the price of 4. A real bargain!

Two concerts to be held in Kirkcaldy Old Kirk may be of interest. The Old Kirk Trust Trust is promoting the continued use of this fine old listed building for concerts. The first concert will include the Kirkcaldy Orchestral Society and will be held on Friday 18th May at 7.30. The second, on Sunday 9th September at 7pm features Chanson, a Prth mixed choir.
Further details of both concerts will be posted soon.

Douglas Paton